NEWS RELEASE
Montreal, QC – April 5, 2023
Fly Through LUNAR's Magic World With The Progressive Instrumental "For My Next Trick" Off "The Illusionist"
ft. members from Witherfall, Helion Prime, Planeswalker, Novareign, Mokili Wa, Nordic Frost, Outloud, Double Vision
Album Guests Jørgen Munkeby (Shining), Christian Münzner (Obscura), Andy Gillion (Mors Principium Est),
Taylor Washington (Paladin), Sam Vallen (Caligula's Horse), Ben Karas (Thank You Scientist), Gleb Kanasevich, Patrick Corona
Top – L- R – Ryan Price – Bass, Alex Nasla – Keyboards & Synthesizers, Chandler Mogel – Lead Vocals
Bottom – L – R – Alex Bosson – Drums & Percussion, Brian Lewis – Growl Vocals, Balmore Lemus – Guitars
California's Lunar have recently released their fourth album "The Illusionist" featuring album guests Jørgen Munkeby (Shining), Christian Münzner (Obscura), Andy Gillion (Mors Principium Est), Taylor Washington (Paladin), Sam Vallen (Caligula's Horse), Ben Karas (Thank You Scientist), Gleb Kanasevich, and Patrick Corona. The nine-track album takes the listener through the life of a magician as he confronts the choices in life and offers a metaphor for those who also question their path. They have created a listening video for the serene, instrument track "For My Next Trick". Written by bassist Ryan Price, the low end plays a prominent part in this track and it signifies the calm before and after the storm where the main character has an idea for one last epic trick to pull and finally feels a sense of peace. The band goes into detail:
"For the final single of the album we wanted to show something a bit different. This song is very different from everything else we've released so far. The song is instrumental and very soft and serene. The polar opposite of the track "Juggling Chainsaws," which was the first single released from the album and also the track that directly precedes this one on the album. We wanted this one to be out there for people who haven't listened to the album yet and see what kind of extreme variety they can expect between songs."
Lunar cites that they have an interesting process when it comes to writing because the story or concept has come first with the last couple of albums. Then that gives a rough layout of how the music should assist in the storytelling and then the lyrics come last to really fill it in. Compared to their other three albums, which had a lot of prog-rock sounds, the newer stuff has more metal influences, and this new album has steered into new sounds they've never done before. There are more technical songs, there's one that's very Egyptian sounding, and one that is very Lunatic Soul inspired.
Expansive, creative, and technical, Lunar offers wild stories and impressive riffs. They are recommended for fans of Caligula's Horse, Devin Townsend, and Opeth.
Watch "For My Next Trick" via its premiere on Bravewords HERE.
Album order via https://lunarbandofficial.bandcamp.com.
Videos:
"Showtime" ft. guest guitar solo Paladin's Taylor Washington – https://youtu.be/qL5SU9T7ta4
"Juggling Chainsaws" ft. guest guitar solo Obscura's Christian Münzner – https://youtu.be/RrA61tilg7k​
"Turn Off The World" ft. guest guitar solo from Caliguala's Horse's Sam Vallen – https://youtu.be/iNTrk0V4uz4​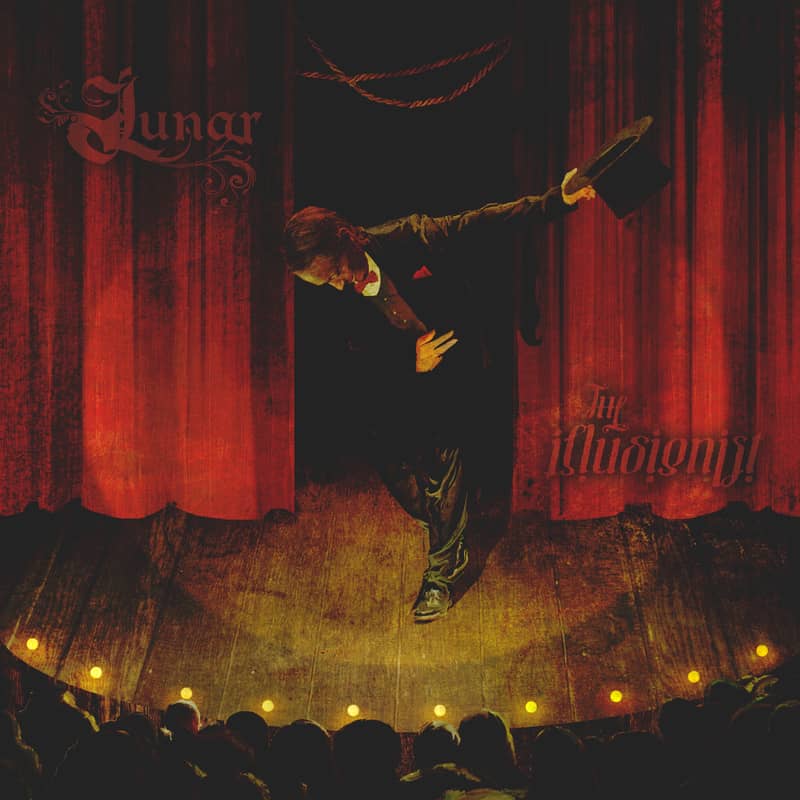 Track Listing:​
1. Prestidigitation – 6:16
2. The Illusionist – 10:04
3. Showtime – 3:45
4. Worship The Sun – 5:23
5. Turn Off The World – 7:14
6. Disassembled – 5:53
7. Juggling Chainsaws – 7:30
8. For My Next Trick – 3:57
9 . Now You See Me – 8:39
Album Length: 58:46
​
​Album Credits:​
– Album Produced by: Alex Bosson
– Album Mixed by: Linus Coreliusson
– Album Mastered by: Jens Bogren
– Album artwork by: Travis Smith
– Album layout / design by: Brian Lewis
– Member of ASCAP
​
​Recording Lineup:​
Drums & Percussion – Alex Bosson
(Music – Track 1, 2, 3, 5, 6, 7, 8,9) (Lyrics – Track 2, 3, 5, 6,9)
Guitars – Balmore Lemus
(Music – Track 4) (Lyrics – Track 4, 7
Bass – Ryan Price (Music – Track 8)
Keyboards & Synthesizers – Alex Nasla
Lead Vocals – Chandler Mogel
Growl Vocals – Brian Lewis
Clarinet – Gleb Kanasevich (Track 1)
Saxophone – Patrick Corona (Track 2)
Flute & Saxophone – Jørgen Munkeby (Track 6)
Violin & Viola – Ben Karas (Track 9)
Additional Guitar Solo – Andy Gillion (Track 2)
Additional Guitar Solo – Taylor Washington (Track 3)
Additional Guitar Solo – Sam Vallen (Track 5)
Additional Guitar Solo – Christian Münzner (Track 7)
For more info: Facebook.com/lunarbandofficial | Instagram.com/lunarbandofficial | Twitter.com/LunarBandOffcl | YouTube.com/@lunarbandofficial​
– 30 –
"It's really well done technically by a band that clearly cares about their music and can play." – Rock The Joint Mag (The Illusionist 2023)
​
"If I had one word to describe this album, it would be this one: whirlwind… "The Illusionist" is an album that is living. From its jazzy highs to its heavy metal lows, this album is constantly on its toes, never repeating itself and never, ever growing complacent. A wonderful whirlwind indeed. 9/10" – Ever Metal
​
"I feel like Lunar has captured the balance between accessibility and technicality very well. I hear many of the same elements in their sound that, when employed well, make bands like Dream Theater, King Crimson, Voïvod and even Sigh so engaging. I love when an album comes out of nowhere (for me, anyway) and makes this much of an impression." – The Metal Crypt
​
"As I said at the start, when I heard this album I was immediately grabbed by it. The story works nicely, it is very character based and features plenty of emotions which as a listener I certainly could relate to. The music is terrific with all the players putting in excellent performances and the instrumentation used in a clever way to match all that is going on with the lead character. There are moments of heavy prog as well as metal, but melody runs through the heart of it. The fact that some of the people in the band have never met or even been in the same room together is remarkable as it sounds like everyone was on the same hymn sheet and it doesn't sound pieced together. That is a great credit to the writing, arranging as well as all the musicians doing their parts to the benefit of the whole piece. An absolutely delightful as well as enjoyable album." – CGCM Rock Radio
​
"The concept is that there are songs that are angry, songs that are confused, songs that are depressed, and everywhere in between. Styles on the album run the gambit from Progressive Metal with melodic vocals, to moments of Jazz, to cookie monster Thrash…. The musicianship is solid on all of the parts, with some excellent performances, notably vocalist Chandler Mogel… it does warrant checking out for Prog-Metal fans that like a mix of growler and melodic vocals." – Metal Express Radio
"The Illusionist again is at the highest level of the progsphere, Bosson's continuation of the Lunar name, honouring his co-founder and friend, through the medium of progressive metal, is an advantageous endeavour. 9/10" – Musipedia of Metal
​
"The disc is well produced and played very well, so anyone who wants to dive into tempo changes and virtuosity will find what they are looking for." – Metal Shock
​
​—
ASHER MEDIA RELATIONS
Jon Asher – Music Publicist
#.514.581.5780 | jon[@]ashermediarelations[.]com
Facebook @AsherMediaRelations | Instagram @AsherMedia | Tweet @AsherMedia
(Rockshots Records, Extreme Metal Music, Armstrong MF, Loud As Hell, Metalocalypstick, Decimate MF, Electric Highway Fest, Wacken Metal Battle Canada/USA, Hyperspace MF, Toledo DeathFest)