NEWS RELEASE
Montreal, QC – February 9, 2023
​
Shores Of Null Reflect On Past Horrors In Sorrowful Video "My Darkest Years"
New Album "The Loss Of Beauty" Out March 2023
EU Tour w/ Swallow The Sun, Draconian, Avatarium
Rome's Shores of Null is explaining their discography of melancholic doom with their fourth album "The Loss Of Beauty", arriving March 24th, 2023. Stylistically, "The Loss Of Beauty" continues along the sulcus set forth by "Quiescence" (2014) and "Black Drapes For Tomorrow" (2017). It's melancholic dark metal with a wide range of influences, from gothic metal to doom and melodic black/death, with frequent use of vocal harmonies and deep growls. The next single "My Darkest Years" is an emotional homage to stories told to guitarist Raffaele Colace by his grandfather, a WWII veteran. He share the details:
"He was taken prisoner in Russia, but he managed to escape and he traveled all the way to Greece, where he hid for a few years in the countryside, in a swamp between the trees, sometimes in a pigpen. In his stories, he told of a woman that brought him a piece of bread every now and then, thus saving him from hunger. Although he managed to escape and survive the war and return to his family in Italy, sorrow never left him for the rest of his life. Whenever he recalled these memories, his eyes were full of tears, and we know for sure that the horrors he saw were way bigger than anything he was able to tell."
Vocalist Davide Straccione takes his inspiration from daily life, in particular stories with a deep emotional meaning. Most of the time it's the mood of the song that inspires him to write about a certain topic, and writing lyrics with a melody in mind allows him to visualize what he wants to tell. For "The Loss Of Beauty" some of the lyrics came after talking to Martina (Sanda Movies) about a few ideas for some of their videos, creating a triple connection between the music, the words, and the images.
Recommended for fans of anything dark and dreary, especially those with an existing interest in Enslaved, Swallow The Sun, and Borknagar.
Watch and listen to the music video for "My Darkest Years" (created by Underrom Studio) via its premiere on Bravewords HERE.
"The Loss Of Beauty" is due out March 24th, 2023.
Album pre-order (Digital, CD, Vinyl) – https://linktr.ee/thelossofbeauty​
Music Video – "Nothing Left To Burn" – https://youtu.be/wuP14Dgx4F4​
Music Video – "The Last Flower" – https://youtu.be/W_LV8-Mz8qA​
Track Listing:​
1. Transitory – 1:20
2. Destination Woe – 4:52
3. The Last Flower – 4:59
4. Darkness Won't Take Me – 4:14
5. Nothing Left To Burn – 4:55
6. Old Scars – 4:23
7. The First Son – 2:17
8. A Nature In Disguise – 6:26
9. My Darkest Years – 4:56
10. Fading As One – 5:19
11. A New Death Is Born – 4:54
Album Length: 48:40
Bonus Tracks (CD and digital only)
12. Underwater Oddity – 4:18
13. Blazing Sunlight – 1:57
Shores Of Null is:
Davide Straccione – Vocals
Gabriele Giaccari – Guitars
Raffaele Colace – Guitars
Matteo Capozucca – Bass
Emiliano Cantiano – Drums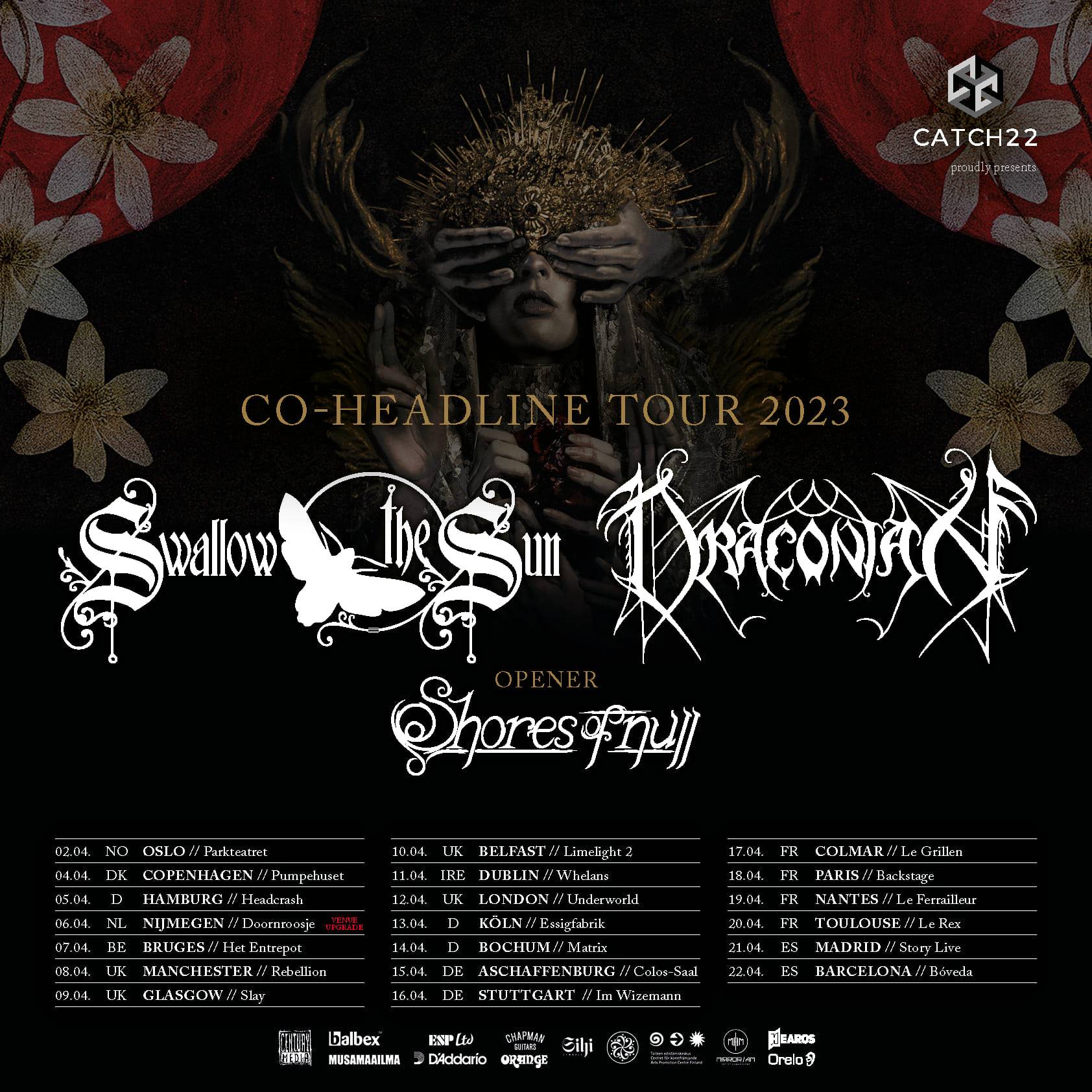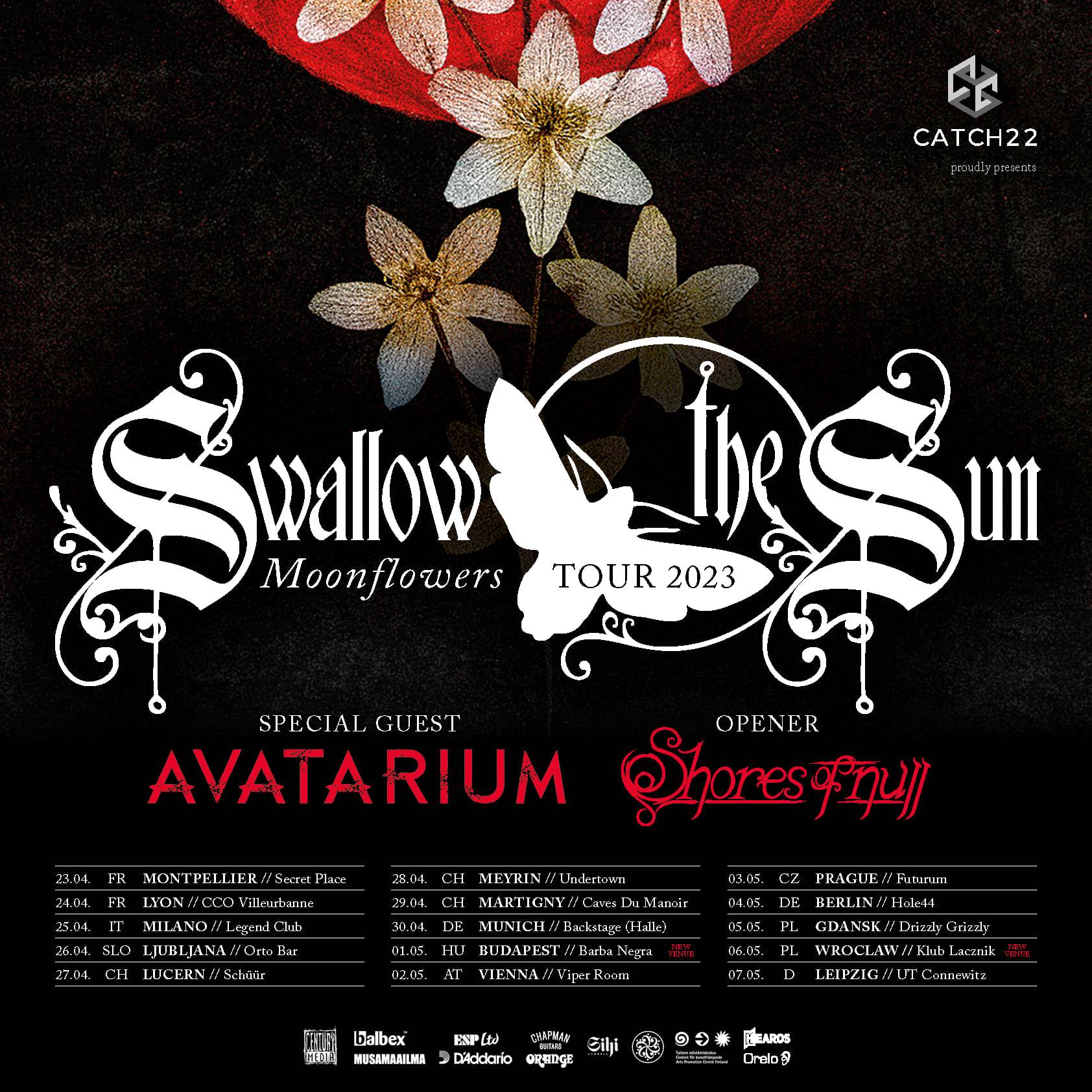 Shores Of Null on their upcoming European tour with Swallow The Sun, Draconian and Avatarium in April/May 2023: https://www.shoresofnull.com/tour ​
02/04/2023 – Parkteatret – Oslo (NO)
04/04/2023 – Pumpehuset – Copenhagen (DK)
05/04/2023 – HeadCrash – Hamburg (DE)
06/04/2023 – Doornroosje – Nijmegen (NL)
07/04/2023 – Het Entrpot – Brugge (BE)
08/04/2023 – Rebellion – Manchester (UK)
09/04/2023 – Slay – Glasgow (UK)
10/04/2023 – Limelight 2 – Belfast (UK)
11/04/2023 – Whelan's . Dublin (IRE)
12/04/2023 – The Underworld . London (UK)
13/04/2023 – Essigfabrik – Köln (DE)
14/04/2023 – Matrix – Bochum (DE)
15/04/2023 – Colos-Saal – Aschaffenburg (DE)
16/04/2023 – Im Wizemann – Stutgart (DE)
17/04/2023 – Le Grillen – Colmar (FR)
18/04/2023 – Backstage – Paris (FR)
19/04/2023 – Le Ferrailleur – Nantes (FR)
20/04/2023 – Le Rex – Toulouse (FR)
21/04/2023 – Sala Changó – Madrid (ES)
22/04/2023 – Sala Bóveda – Barcelona (ES)
23/04/2023 – Secret Place – Montpellier (FR)
24/04/2023 – CCO Villeurbanne – Lyon (FR)
25/04/2023 – Legend Club – Milan (IT)
26/04/2023 – Orto Bar – Ljubljana (SLO)
27/04/2023 – Schüür – Luzern (CH)
28/04/2023 – Undertown – Meyrin (CH)
29/04/2023 – Caves du Manoir – Martigny (CH)
30/04/2023 – Backstage – Munich (DE)
01/05/2023 – Dürer Kert – Budapest (HU)
02/05/2023 – Viper Room – Vienna (AT)
03/05/2023 – Futurum – Prague (CZ)
04/05/2023 – Hole44 – Berlin (DE)
05/05/2023 – Drizzly Grizzly – Gdansk (PL)
06/05/2023 – Klub Łącznik- Wrocław (PL)
07/05/2023 – UT Connewitz – Leipzig (DE)
For more info: Spikerot.com | Shoresofnull.com | Facebook.com/shoresofnull | Instagram.com/shoresofnull | Twitter.com/shoresofnull​
​
About: Shores of Null stand out from their contemporaries with their ability to blend seemingly disparate elements into their sound, overwhelmingly heavy and soothing at the same time: blackened aggression stands alongside gothic-doom sections without either sounding out of place. Their music can be both melancholic yet majestic, made of chorale-like guitar textures across the instrument's entire range, sustained by a powerful rhythmic section and punctuated by a refined mixture of clean and growled vocals, along with extensive use of pleasing vocal harmonies which have become the band's trademark through the years.
The Rome-based metal band has been an unwavering presence within the metal underground since their musical outset in 2013, churning out three impressive records: the melodic and somber "Quiescence" (Candlelight, 2014), the darker and more complex "Black Drapes For Tomorrow" (Candlelight/Spinefarm, 2017), and finally their most ambitious work to date "Beyond The Shores (On Death And Dying)" (Spikerot Records, 2020), a 38-minute long opus which continues to prove the band's willingness to go off the beaten path while creating their ultimate doom manifesto.
The band's fourth album "The Loss Of Beauty", recorded during the same sessions of "Beyond The Shores", is expected to be released in March of 2023.
– 30 –
Shores of Null continues to impress and expand upon their doomy sound. An epic-length track worthy to sit amongst the best of these ventures (Edge of Sanity, Insomnium). Emotionally fulfilling and musically satisfying all at once." – Dead Rhetoric (Best-of 2020)
"this album definitely is one of the best Doom Metal pieces I had the pleasure to look at in 2020. Once you plunge into its astonishing flow, there will be no escape from that majestic march through soaring soundscapes to those tear-drenched horizons." – Rock Music Raider (Best of 2020)
"it's certainly ambitious (video for "Beyond the Shores (On Death and Dying)"), but if you have the time, it's worth the watch. Steeped in quality and excellent videography, it definitely deserves the attention for the amount of effort used." – Metal Injection
"Shores of Null rolled the dice with Beyond the Shores (On Death and Dying) and delivered in a big fucking way… Shores of Null have crafted something special; a heart-wrenchingly emotive and beautiful journey of sorrow, anguish, pain, and acceptance. Beyond the Shores (On Death and Dying) is a splendidly sombre, brilliantly written opus of commanding death-doom that demands attention." – Teeth of The Divine
"this album is phenomenal, both in terms of concept and its monumental delivery… with this magnum opus [Shores Of Null] have proved their position front and centre as depressed doom-titans…" – The Sleeping Shaman
"Beyond The Shores (On Death and Dying)" is a near perfect, monumental achievement of doom. I can't imagine any fan of the style not finding something here to enjoy." – Metal Temple
"An enchanting, gloomy opus." – Moshville Times
"A single track of incredibly well-realised melodic doom metal, layered with all sorts of treats and nuanced delivery." – Wonderbox Metal
"A piece of delicious despair, delivered on a platter of storm-ridden and excellently executed Doom Metal. A record that left anybody else in the genre in 2020 quaking in their wake." – Rock Music Raider
"their most intricate and brooding work to date… grandiose emotional impact." – Metal Storm
​
—
ASHER MEDIA RELATIONS
Jon Asher – Music Publicist
#.514.581.5780 | jon[@]ashermediarelations[.]com
Facebook @AsherMediaRelations | Instagram @AsherMedia | Tweet @AsherMedia
(Rockshots Records, Extreme Metal Music, Armstrong MF, Loud As Hell, Metalocalypstick, Decimate MF, Electric Highway Fest, Wacken Metal Battle Canada/USA, Hyperspace MF, Le FestEvil)