NEWS RELEASE
October 28, 2022 – Montreal, QC
Prepare For A Doomsday Thrash Attack With Gamerra's "Couillon Death Squad"
L-R – Reece Benoit (Rhythm Guitar), Jacob Broussard (Lead Guitar/Vocals), Jake Meche (Lead Vocals)
Photo Credit: Tyson Pate of CobraTai Photography
Like a bat out of hell, thrash attack Gamerra is coming at you hard and fast from Lafayette, Louisiana, USA. Their sound can be summed up as if Ghoul were written by doomsday preppers hopped up on PCP that listen to too much Revocation. They have a shiny new EP out that will scratch your thrash itch by filling your ears with tight riffs and speedy solos. "Couillon Death Squad" provides a twenty-minute thrash ride over three tracks that expand on the lore of the band. They explain the release:
"Over the years we have gotten a lot more intense and progressive musically and the vocal patterns and lyrics have gotten considerably more mature (not in content, but in quality). We're pretty far forward from the sound people heard on "Detached from Reality" (2019). We hope that people will enjoy "Couillon Death Squad". It is a big step up from our previously released material and we're sure people will notice the difference."
The EP features a varied collection of music, the first song and the last are polar opposites of each other. The opener "Couillon Death Squad" is fast and furious with a slower section in the middle and has a short runtime; the closer "Sugar Mill Headhunt" is slower, chunkier, and spaced out with a speedy section in the middle and a long runtime. The middle song "H.O.A." has a Havok vibe to it, a good jam song for the classic thrash fans to sink their teeth into with a deadly solo. Gamerra definitely put a focus on holding the listener's interest on this one.
"Couillon Death Squad" was produced by lead guitarist/vocalist Jacob Broussard and lead vocalist Jake Meche; it was mixed by Broussard, Meche, and guitarist Reece Benoit and mastered by Broussard. The EP art was done by Splezz.
Fast, weird, fun, and heavy, "Couillon Death Squad" is classic thrash suitable for any maniacs, especially those who enjoy Exodus, Death, and Warbringer.
EP Stream via TheCirclePit – https://youtu.be/AG7vPN67icY
​
The EP is available as of October 28th on all digital platforms – https://distrokid.com/hyperfollow/gamerra/couillon-death-squad​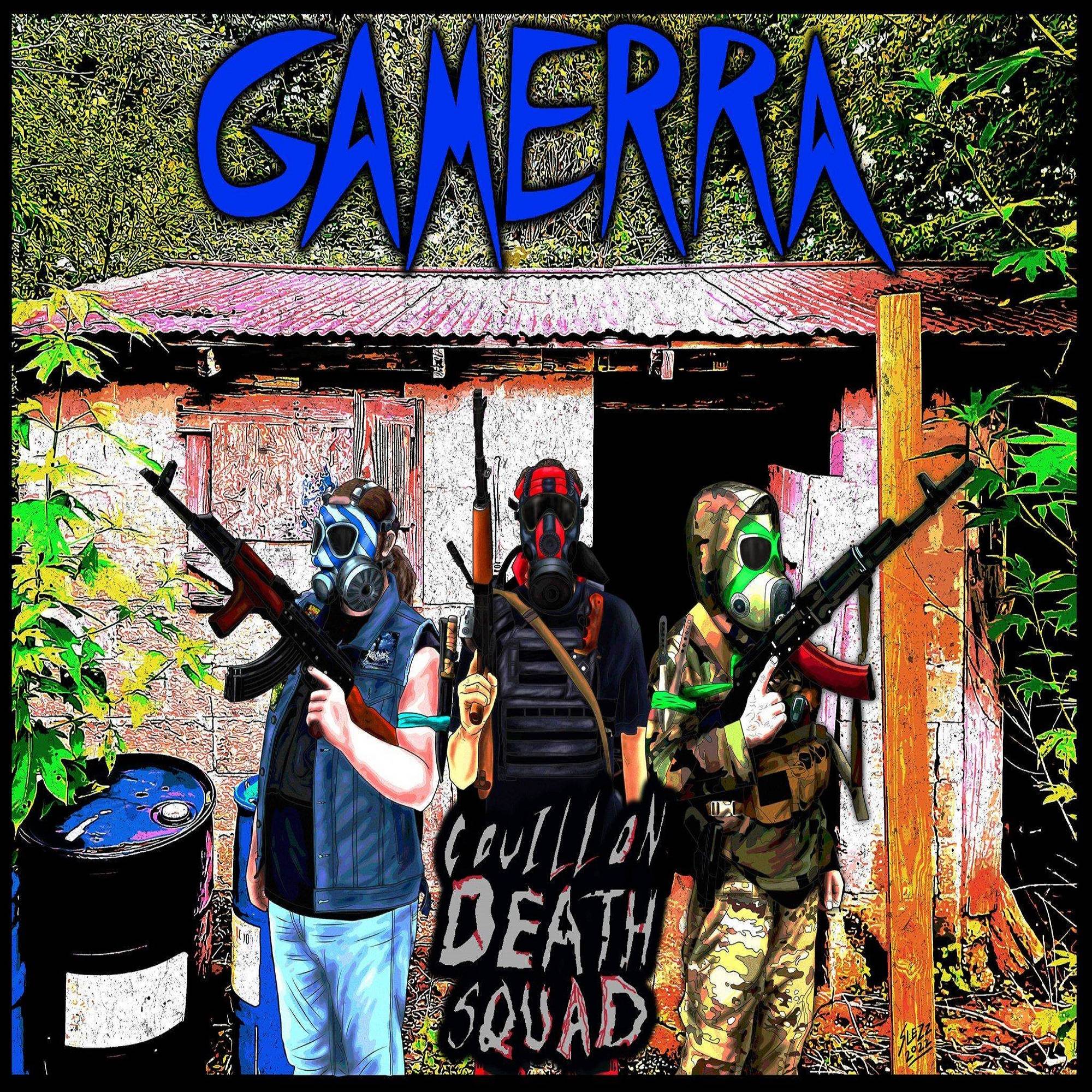 Track Listing:​
1. Couillon Death Squad (4:00)
2. H.O.A. (6:25)
3: Sugar Mill Headhunt (9:41)
EP Length: 20:06
​
​EP Credits:​
– All songs performed by Gamerra.
– All Rhythm Guitar recordings by Broussard
– Drum Programming and bass tracking by Broussard
– 1st, 3rd, 5th, 7th, 9th, & 11th Guitar solos on the song Couillon Death Squad tracked by Benoit.
– All other guitar solos Couillon Death Squad, H.O.A., & Sugar Mil Headhunt by Broussard
– All main vocal parts tracked by Meche, with occasional lead vocal parts by Broussard.
– Backing vocals by Benoit, Broussard, & Meche.
– All songs were written by Gamerra
– Lyrics are written in collaboration between Broussard & Meche.
– All music written by Broussard except for the left-hand guitar track in the intro to H.O.A. and solos performed by Benoit (left-hand intro riff for H.O.A. and odd-numbered solos in the song Couillon Death Squad were Written by Benoit).
Band Lineup:​
Jake Meche- Lead Vocals
Jacob Broussard- Lead Guitar/Vocals,
Reece Benoit- Rhythm Guitar
​
​Discography: ​
2022 – Couillon Death Squad- EP (October)
2022 – REDO- EP (May)
2021 – Demo 2021 – Demo
2019 – Detached from Reality – LP
2017 – Gnarlymetalextreme – Demo
For more info:​
​https://www.facebook.com/GAMERRAThrash​
​https://www.instagram.com/gamerra_thrash_metal​
About: A good-time thrash band seeking the ultimate jam. Mixing in spicy doses of death metal and progressive metal, producing a sound akin to a fusion of Exodus and Death with the intense vocal patterns and delivery of Warbringer, the aggressive and experimental leanings of Revocation, the ferocious rhythm guitar tone of early Meshuggah, and the attitude and fun-loving vibes of Havok, all played in the spirit of old school Sepultura. Through many lineup changes, Gamerra survives in the new decade. Despite consistently not having a drummer, and still lacking a bassist, Jacob Broussard, Jake Meche, and Reece Benoit persist on and will continue to write, record, and release music in the hopes of catching the ears of musicians that might be interested in playing for them.
– 30 –
"Born from friendship and a love of commenting on the world around them, thrash metal band Gamerra is making a name for itself around Acadiana… "Detached from Reality- available on iTunes- relies on observation of sociopolitical happenings and even touches on past events such as the Vietnam War." – Miranda Davis from 008 Magazine​
​
—
ASHER MEDIA RELATIONS
Jon Asher – Music Publicist
#.514.581.5780 | jon[@]ashermediarelations[.]com
Facebook @AsherMediaRelations | Instagram @AsherMedia | Tweet @AsherMedia
(Rockshots Records, Extreme Metal Music, Armstrong MF, Loud As Hell, Metalocalypstick, Decimate MF, Electric Highway Fest, Wacken Metal Battle Canada/USA, Hyperspace MF, Le FestEvil)
​