NEWS RELEASE
Montreal, QC – January 19, 2022
​
Canada's THUNDEROR (ft. members of Skull Fist) Release Title Track Single From Upcoming NWOTHM "Fire It Up"
Debut Album "Fire It Up" Out Feb 25, 2022 via Boonsdale Records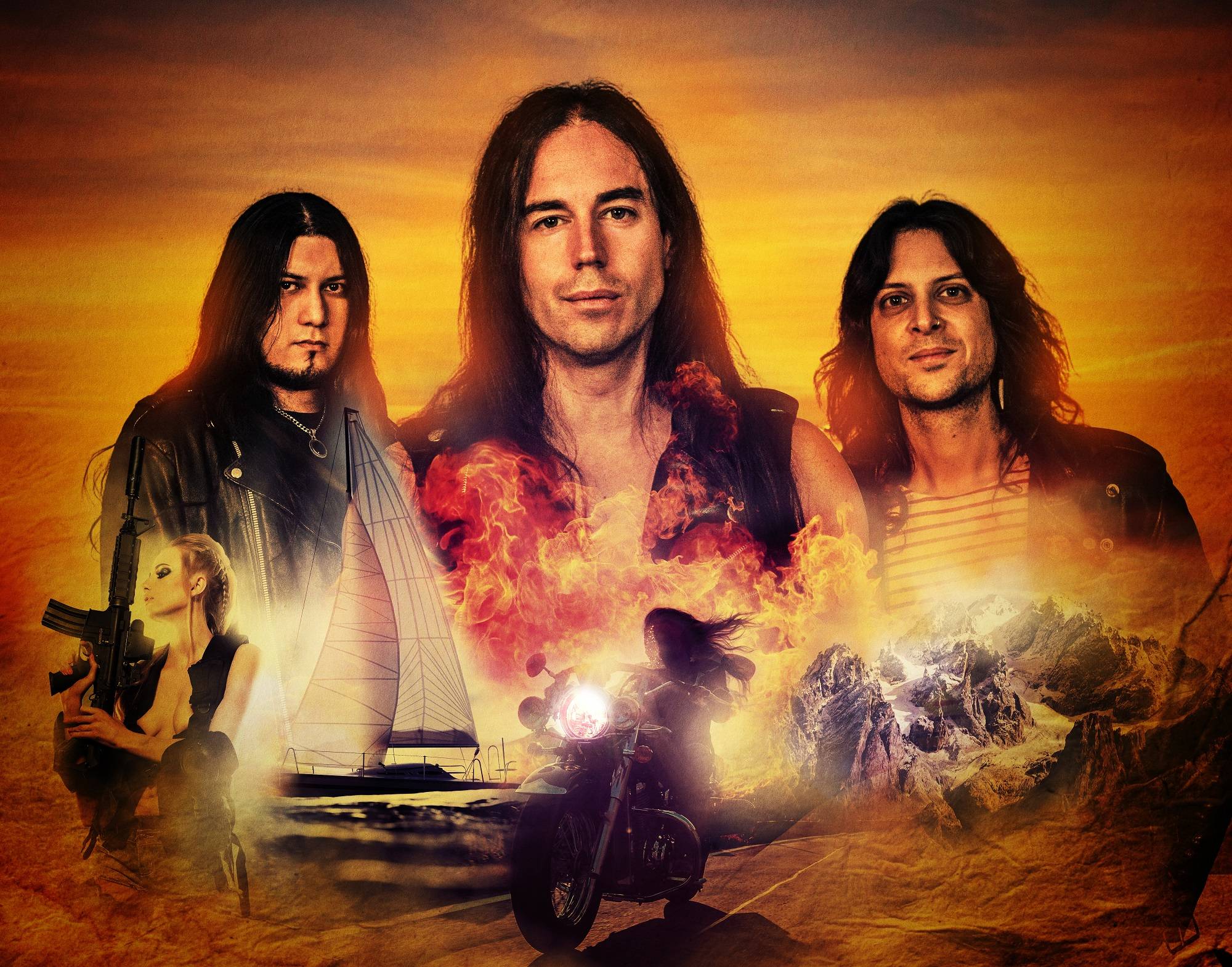 Thunderor is a relatively new band, just having started up in the midst of the Covid pandemic when drummer JJ Tartaglia (Skull Fist) felt a calling to develop his singing and front his own band. He is joined by ex-Skull Fist bandmate Jonny Nesta and Oscar Rangel (Operus, ex-Annihilator) to create a heavy 80's influenced power trio that knows how to rock fans. They are releasing their debut album "Fire It Up" this February, and now have a video up for the title track, which can be heard and viewed at https://youtu.be/6t_KqTq7OOE
​
"Fire It Up", as the name suggests, is an up-tempo, cheery track with two different choruses, massive hooks, and invasive melody. The lyrics are about motorcycle riding, romance, and escape. It's a fun song that will make you crave the energy of live gigs once again. JJ Tartaglia explains in further detail:
​
​"It's the title track from the record, so it's the perfect one to release as a single. If you pay attention you'll notice there are actually two different choruses that happen back-to-back throughout the song, so no shortage of hooks! The song is for those who feel a longing for escape; you can cure that with motorcycles and romance."
Originally intended to be straight-up heavy metal, the final direction of the band took a turn when Tartaglia realized the best way to complement his singing would be to add synths to all the songs resulting in a fresh take on NWOTHM, that encompasses hard rock and AOR. Lyrically, the album is an adventure, complete with motorcycles, romance, and danger. It inspires you to go after your life and to never give up.
It's an original album that has enough familiarity to be suitable for Skull Fist fans and a good dosage of innovation that will catch the ears of new listeners. Tartaglia also cites that being a singing drummer definitely adds a unique twist and will allow for a creative setup when they hit the stage.
The 80s-infused heavy metal is recommended for fans of Saxon, Twisted Sister and Skull Fist.
"Fire It Up" comes out on February 25th, 2022 via Boonsdale Records.
Album pre-order – https://thunderor.bigcartel.com​
Music Video – How We Roll – https://youtu.be/_U-ElWkLNg0
​
In additional news, Thunderor's March 2022 European tour with Traveler has been rescheduled to June with dates TBA along with Mexico dates with U.D.O. also in June.
​
​Thunderor dates with U.D.O.:
June 17, 2022 – Circo Volador, Mexico City, MX
June 19, 2022 – Café Iguana, Monterrey, MX
Track Listing:​
1. Fire It Up (5:12)
2. How We Roll (4:14)
3. All or Nothing (4:31)
4. Dangerous Times (5:24)
5. Thunderor (4:32)
6. On the Run (4:04)
7. Into the Storm (1:34)
8. We Can Make It (4:21)
9. Cold Tears (5:17)
Album Length: 39:09)
For more info:
​Facebook.com/ThunderorOfficial​
​Instagram.com/thunderor_official​
About:​
THUNDEROR is an 80's-infused heavy metal band formed in 2020. Featuring a lead-singing drummer and an all-star lineup, the Canadian power trio delivers hook-driven stadium-caliber songs with an untamed spirit.
Since 2019, drummer JJ Tartaglia had felt a calling, one which grew stronger each day. Being a member of several prominent metal bands over the last decade (most notably Skull Fist) and having essentially served as a disciple of heavy metal for many years, the time had come to take his quest even further. A new course was being charted for his musical mission. He would share a vision, a feeling… a message he could deliver only with his own voice.
Fueled by his passion for adventure, JJ began to work on drum arrangements and piano pieces that would become the skeletons of the Thunderor songs.
In 2020, with the addition of long-time bandmate Jonny Nesta on guitars, combined with JJ also composing on keys and vocals, songwriting began in full force and quickly yielded an album's worth of material. Close friend and monster player Oscar Rangel (ex-Annihilator) was then called upon to do bass and the line-up was complete. Thunderous drums, lightning hot guitar licks, dreamy synths, and piercing vocals would form the musical storm that is THUNDEROR.
The band would spend the next year self-recording the album, priding themselves on recording the natural way, producing an energetic record with a strong human connection. Fall of 2021 would see the release of the 1st single HOW WE ROLL, immediately garnering a worldwide audience. The debut album FIRE IT UP is set for an early 2022 release backed by an European tour.
If you've ever felt a longing for escape, a thirst for adventure, wrapped in romance and danger, well what are you waiting for? Get after it and let THUNDEROR be your soundtrack!
– 30 –
—
ASHER MEDIA RELATIONS
Jon Asher – Music Publicist
#.514.581.5780
jon[@]ashermediarelations[.]com
Facebook @AsherMediaRelations
Instagram @AsherMedia
Tweet @AsherMedia
​